Matthew Fickett AIA, CPHC, LEED
I enjoy working with researchers to invent highly technical laboratory spaces which contain extreme conditions – whether of cleanliness, quietness, purity, temperature, or magnetism. My goal is to understand their work and the physical principles on which it depends so that I can collaborate with specialist engineers to create novel facilities.
My ideal environment is one where I can work on the most challenging design problems in this field, and one where I can mentor, and be mentored by, other designers who share these interests.
matthew.fickett@gmail.com | (617) 645 5324 | Boston, Massachusetts | matthewfickett.com
2016 - Current
Project Architect, Associate
Fermilab IERC


Architectural lead for particle physics detector research and construction laboratory and ISO 6 cleanroom spaces, programming through final design

Confidential Medical Device Cleanrooms


Project Architect for manufacturing cleanroom expansion and modernization, temporary cleanroom, and pilot manufacturing line cleanroom; all ISO 6

Columbia Electron Microscope Suite


Project Architect and Project Manager, for cryo-EM suite in sub-grade level of existing building adjacent to elevated railway and active MRI suites

Keralink Cornea processing facility


Project Architect, Project Manager, production lead, and photographer for office, wet lab, and ISO 6 cleanroom lab

MIT Lincoln Lab Chip on Board Lab


Project Architect and production lead for micron-level clean-not-classified electronics assembly and testing lab adjacent to active loading dock

University of Kansas ISB


Architectural lead and production lead for suite of four electron imaging instruments and multiple low-vibration laser- and quantum-materials laboratories

Explanatory Drawings Nano Cleanroom; Electron Imaging


Layout, production, and writing of explanatory cut-away posters

Skolkovo University Core cleanroom and imaging facilities; Center for Quantum Materials


Architectural lead and production lead for ISO 4 - 6 nanotech semiconductor research and fabrication cleanroom, and labs for Quantum Materials department

Mass DOER Net Zero Energy Building Research


Validating and calibrating building energy models against field measurements and operational data to support MASS DOER grant work by Payette's Building Science group

MGH Suites for Interventional Radiology, X-Ray, and Emergency Department MRI


Coordination and production for a series of high-performance imaging and radiology suites in operational areas of Massachusetts General Hospital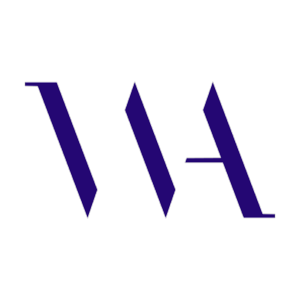 (continued)
GWU School of Public Health, auditoria and monumental stairs


Coordination and documentation of three main auditoria, including parametrically-designed acoustic paneling, and atrium's monumental stairs

Harvard Sherman Fairchild Laboratory, zebrafish facility


Architectural and production lead, and photographer, for zebrafish facility in lowest level of Sherman Fairchild laboratory

UMass Medical Center Ambulatory Care Center, nuclear medicine and cardiac medicine floors


Architectural lead and production lead for two floors of outpatient care facilities, including nuclear medicine imaging suite, from programming through construction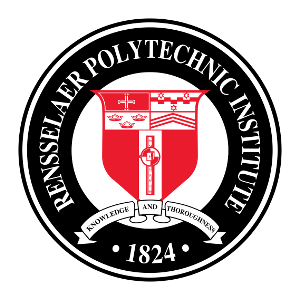 2001-2006
Five-year Bachelor's of Architecture
Minor in Organizational Psychology
magna cum laude
Keralink
This wet lab and ISO 6 cleanroom facility for a cornea-transplant non-profit replaced an existing office fitout. To reduce costs and increase transparency, the lab is designed to re-use existing glass office partitions.
Role: Project Manager, Project Architect, and production of most documentation. At Perkins+Will.
Image: Standing near the entrance, looking into the clean-not-classified wet lab area, with the cleanroom (blue wall) beyond.
(Photo: Matthew Fickett)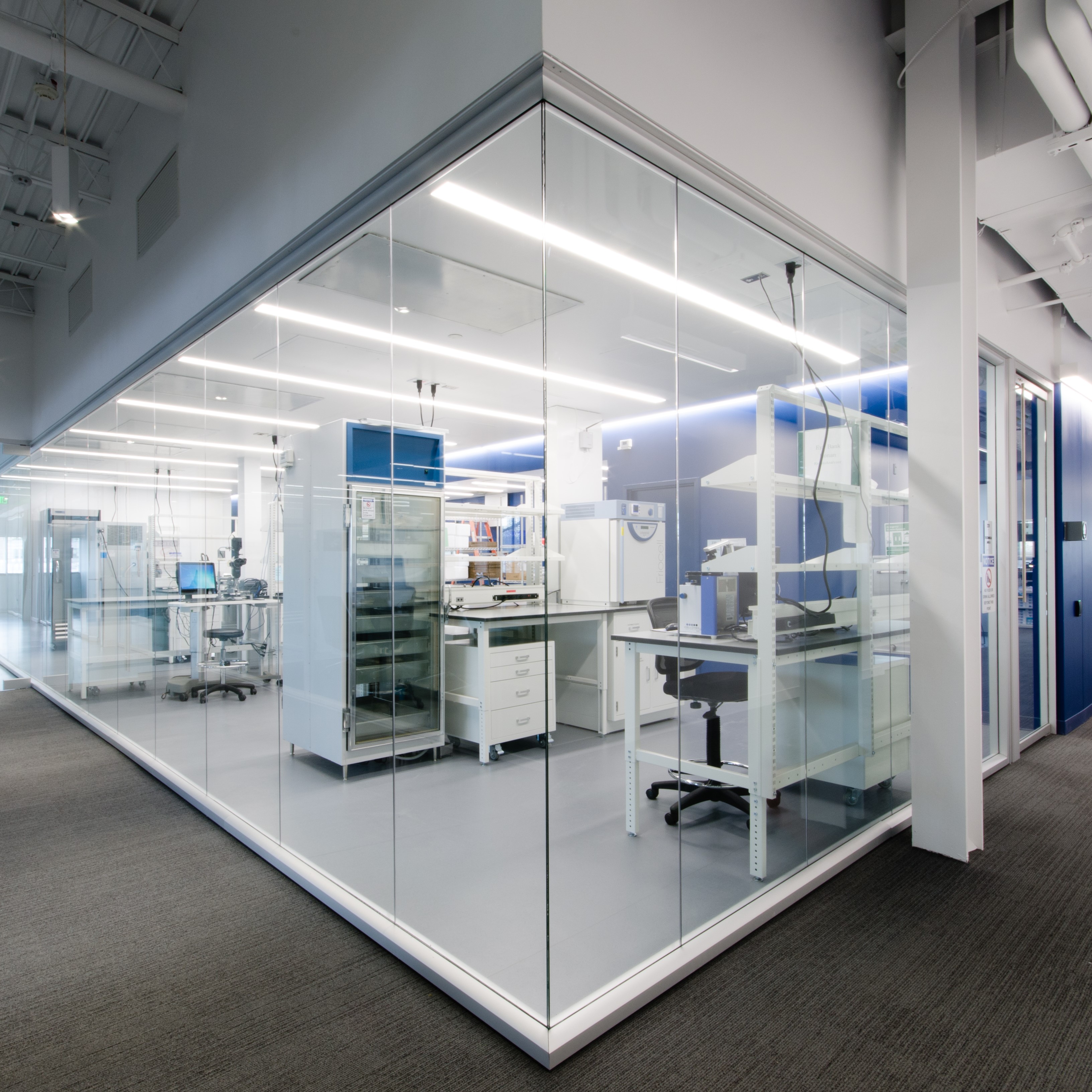 Explanatory Drawings
I wrote and illustrated explanatory drawings for technical project types I work on. I use these internally, to explain the highly technical facilities I design to team members working on the same project, and externally, to illustrate design principles for these project types when I am teaching or speaking publicly.
Download these at full size (30x42) here:
Role: Concept and execution of complete project. At Perkins+Will.
Image: Detail from Nano Cleanroom drawing.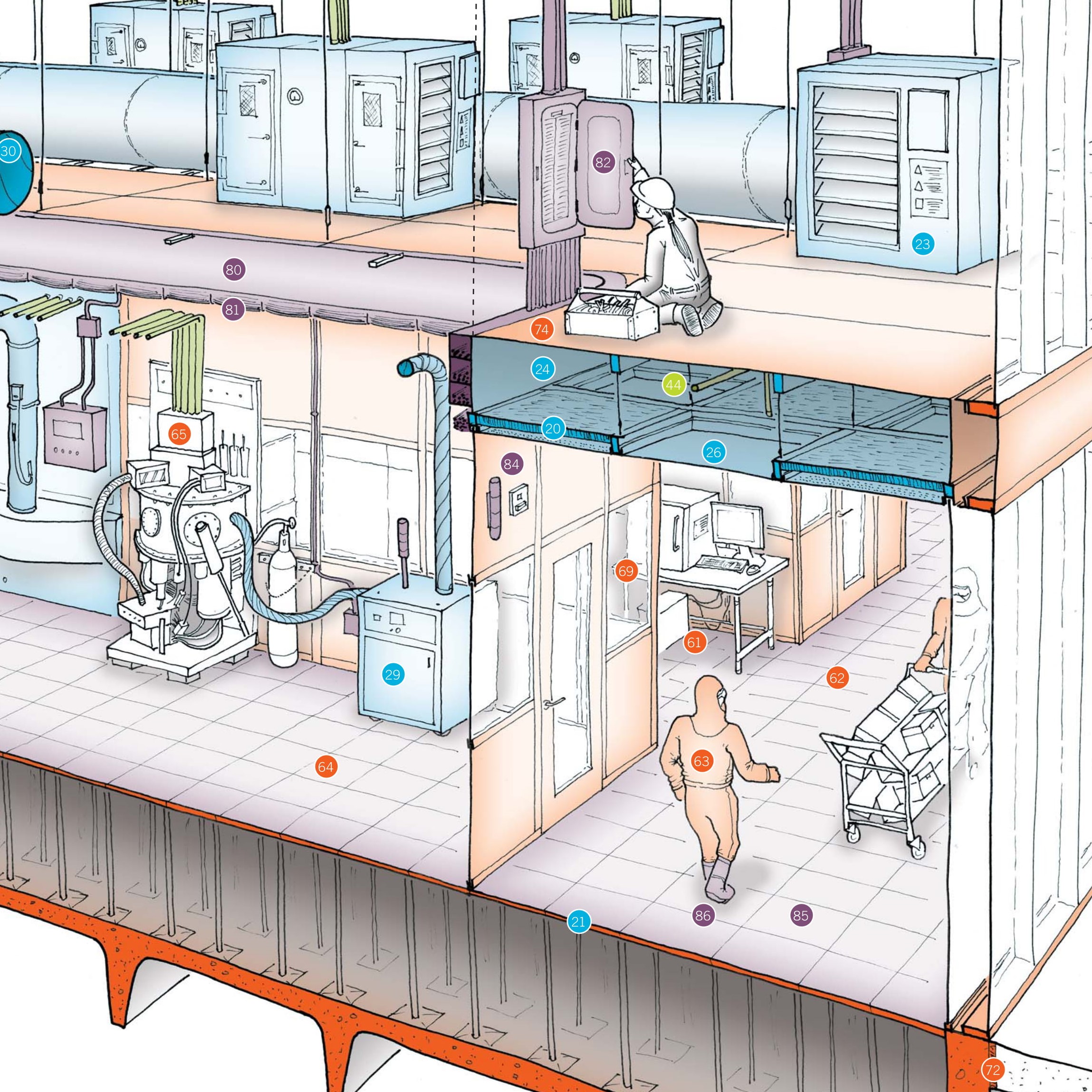 Harvard
Sherman Fairchild Zebrafish Facility
As part of the Sherman Fairchild lab renovation, I led the design of a new zebrafish facility in the basement. The existing structure clears the ceiling by as little as four inches in some locations; the systems coordination to achieve an environment both functional and asthetically pleasing was significant. The facility was designed for future installation of feeding robots, requiring the installation of concealed supporting steel above each row of tanks.
Role: Design, documentation, and coordination of this facility within the scope of a whole-building renovation. At Payette.
Image: The main aisle looking toward the zebrafish water pump room.
(Photo: Matthew Fickett)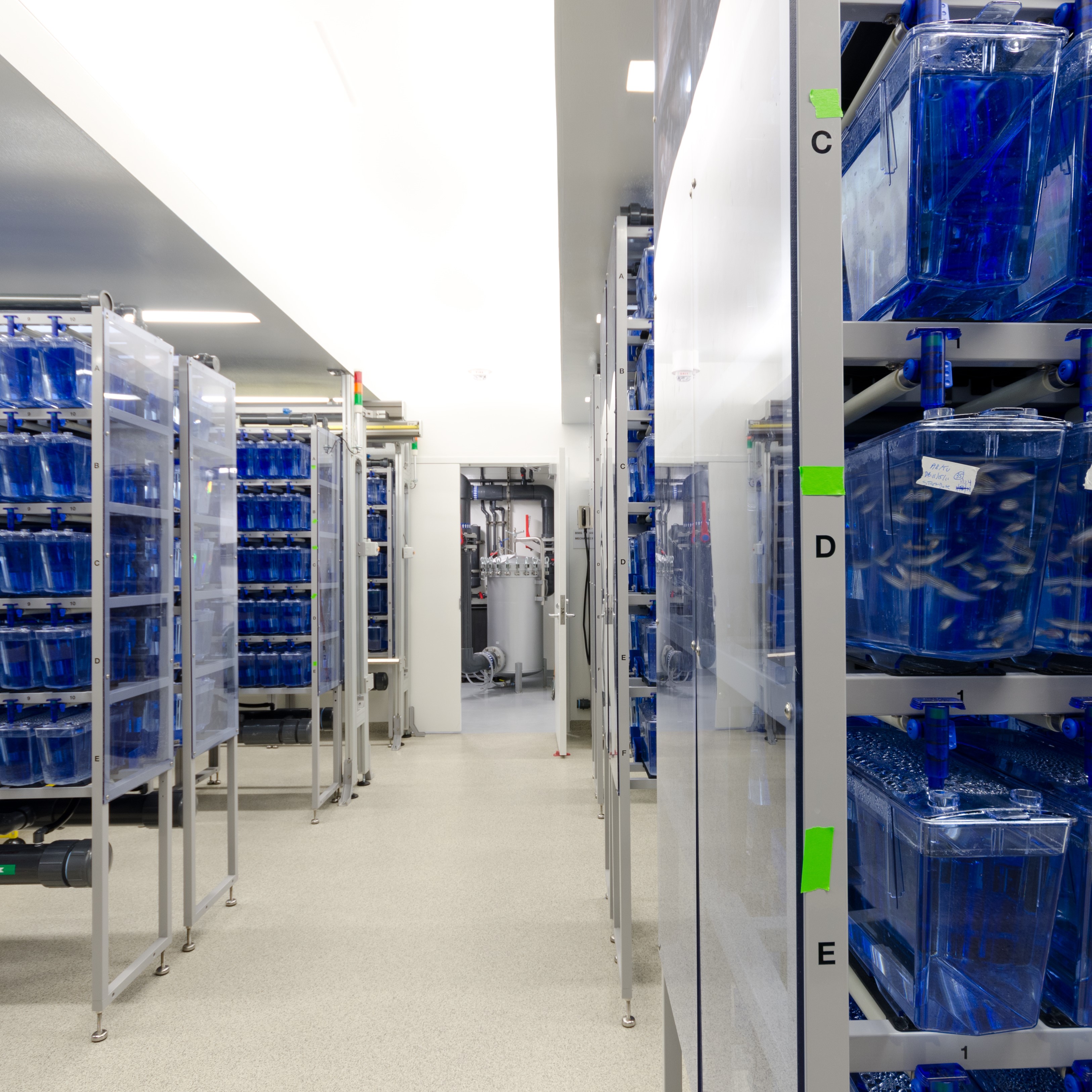 Credentials
AIA
(since 2013), Licensed architect in Massachusetts
CPHC (since 2017), Certified Passive House Consultant
LEED AP (since 2008), Version 2 of LEED
Speaking
Tradeline College and University Science and Engineering Facilities 2018
Helium: Facility and engineering systems for recovering spent gas, reducing demand and costs
Applying the rigorous Passive House energy efficiency standard to lab space (with Julie Janiski, Buro Happold)
Tradeline College and University Science and Engineering Facilities 2017
Facility plans for advanced imaging: Critical details for success
Cleanrooms: Requirements, support services, and impacts on building design
Aquaculture America 2012
Architectural design and construction of a new zebrafish research facility in an existing laboratory building
Teaching
Northeastern University
Comprehensive Design Studio (professor David Fannon): critic for all reviews throughout the studio, 2014, 2015, 2016, 2017, 2018
Columbia University
Core 2 Studio (professor Christoph Kumpusch): critic for intermediate and final reviews, 2018
Boston Architectural College
A-2 Studio: co-led with Becky Zollin, 2007
A-1 Studio (professor Becky Zollin): critic for intermediate and final reviews, 2007